23 DEC 09
Getting Ready For Christmas!
Filed Under: Holiday
---
Let the fun begin! Delivering my cookie gifts is my favorite part of the holiday baking season. As promised I've taken plenty of pictures.
I start my baking a couple of weeks in advance. Over the years I've learned which recipes will keep well in the freezer and I make those first. The most delicate cookies are made the night before or the morning of delivery. All of my decorating (royal icing, etc.) is also done last.
Planning which cookies to bake each year is the hardest part. There are some that I consider to be tradition and I make these year after year. These are the ones that my mom always put on her cookie trays while I was growing up. It just wouldn't be Christmas without anise cake cookies, lemon poppy seeds, and cinnamon crescents (recipe here). Each year I set out to try a few new recipes too. I pay careful attention to varying the flavors, shapes, and textures. This year I added vanilla chai tea cut-out stars, almonds sables, and oatmeal cranberry.
I vary my presentation based on the recipient. I leave small boxes or tins with my Christmas tips for the dog walker and cleaning ladies. I prepare larger trays for family members and I make up small treat bags for sharing with neighbors. I purchase some fine candies for filling spaces in my trays. In all cases I print up fortune style labels to be packaged with the cookies. In general I come up with a description that highlights the key cookie ingredient, especially if nuts are used, I want to make sure that is clear.
Unique boxes and tins are becoming easy to find. I purchased the ones seen here at my local Target.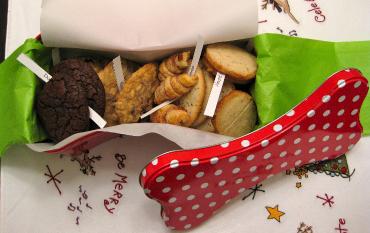 Dog bone shaped tin for dog walker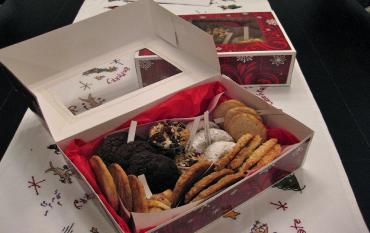 Decorative boxes for cleaning ladies
Trays also come in all shapes and sizes. I bought round and rectangular this year.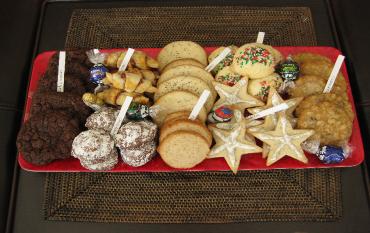 I love the Hallmark store for packaging and decorating cookies gifts. They always have decorative cellophane, treat bags, and trimmings. This year I found the cutest gift tags with a Christmas tree cookie cutter attached. Perfect!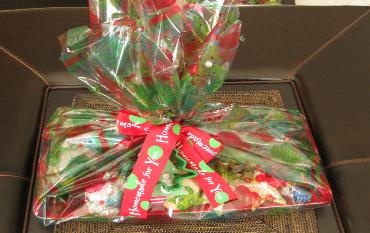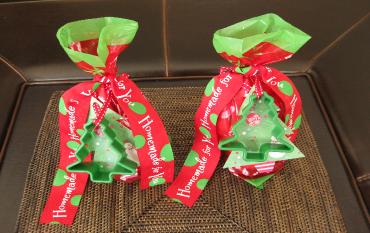 Aren't these adorable?
I hope you've gotten some cookie gifting ideas of your own. If you have any questions please feel free to contact me.