24 JAN 10
Tropical Carrot Cake
Filed Under: Cakes
---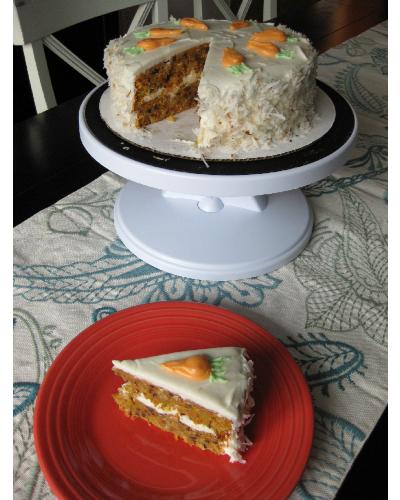 During the week I overheard a good friend say that she could never pass up a good piece of carrot cake. That makes her the perfect tester for this tropical recipe which includes pineapple and coconut.
When the winter starts to feel long it's nice to warm up with a spring recipe. My friend's mention of carrot cake got me thinking about this one. Adding tropical ingredients to an old favorite is like going on a little vacation in your own kitchen. The addition of pineapple and coconut made this carrot cake dense but immensely moist and flavorful. I did notice, however, that it took an extra long time to bake (over an hour in my oven). I paired the cake with a traditional cream cheese icing but it's raining cats and dogs in Detroit today and my icing didn't want to stiffen. This forced me to add a little extra confectioner's sugar and made the frosting overall sweeter than I'd have liked.
Tropical Carrot Cake
Yields 1 2-layer 9-inch cake

Equipment: Electric Mixer

Prep Time: 30 min.

Oven Temp: 325 F

Bake Time: 40 - 50 min.

Ingredients:
2 cups all-purpose flour

1 teaspoon baking powder

1 teaspoon cinnamon

1/2 teaspoon salt

1 cup canola oil

1 3/4 cups sugar

3 large eggs, room temperature

1 1/2 teaspoons vanilla

2 cups shredded carrots

8 ounces crushed pineapple, in juice

1 cup toasted peacans, coarsely chopped

3/4 cup shredded coconut, sweetened
Directions:
1. Preheat oven to 325 degrees
2. Prepare two 9 inch round cake pans (8 inch can also be used)
3. Sift together the flour, baking powder, cinnamon, and salt, then set aside
4. Beat together the oil and sugar in the large bowl of an electric mixer on medium speed
5. Add the eggs, one at a time, and beat well after each addition
6. Add the vanilla and beat until incorporated
7. Gradually add the dry ingredients and mix until well incorporated
8. Stir in the carrots, pineapples (including juice), coconut, and pecans
9. Divide the batter evenly into two pans and bake until cake tester inserted in center of cake comes out clean (40 - 50 minutes)
10. Cool layers in pan for 1 hour and then turn out onto a cooling grid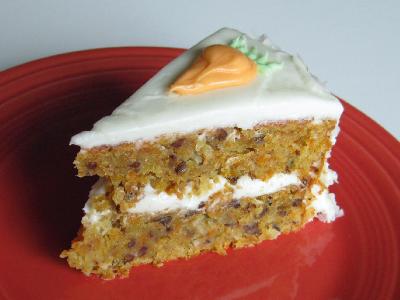 My attempt to pipe a carrot
Over the weekend I made a run to Michael's to pick up some supplies and brought home a box of Wilton Icing Colors which allowed me to make the carrots for the top of my cake. I checked my books, Google, and YouTube for instructions on how to properly pipe a carrot but I came up short. I decided to wing it and ended up using my round tip #12 to make the carrot and #4 to pipe the greens. If anyone out there knows the proper way please let me know!
I'll be bringing a sample of this cake to my taste tester tomorrow morning. The Third Shift Bakery brand is really coming together with cute box labels and matching ribbons. I found these cake slice boxes at Michael's, they are perfect for sharing.