31 JAN 10
One Pot Brownies
Filed Under: Baked Goods
---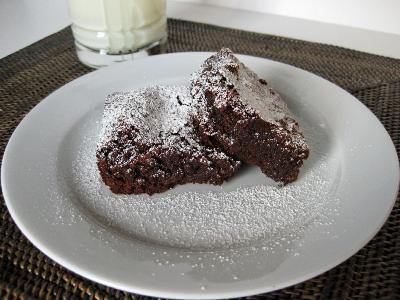 This is the perfect dessert for when you need something quick but want it to be homemade. You can make these brownies almost as fast as you can make them out of a box, but these are soo much better!
This recipe is put together on the stove top and, as the title states, you simply throw all the ingredients into one pot. Pour the batter into a pan, pop it in the oven for 30 minutes, and just like that you have the perfect start to a brownie sundae :) For extra fudgy brownies omit 1 egg.
I whipped this batch up while my husband was taking a nap. He's the cook in our family and he's making lentil soup for our dinner tonight. I thought I'd surprise him by adding some dessert. Ok, ok, I just wanted dessert tonight! Enjoy.
One Pot Brownies
Yields 1 8" pan

Equipment: Small sauce pot

Prep Time: 15 min.

Oven Temp: 350 F

Bake Time: 25 - 30 min.

Ingredients:
1 cup AP Flour

1/2 teaspoon Baking Powder

1/4 teaspoon Salt

1/3 cup Hot Water

1 tablespoon Instant Espresso

1 cup Sugar

1/2 cup Unsalted Butter, (1 stick)

1 cup Chocolate Chips (60%), (6 oz)

2 Large Eggs

1 teaspoon Vanilla
Directions:
1. Preheat oven to 350 degrees
2. Heat water and coffee in saucepan over low heat. Add sugar and butter. Stir this constantly until it comes to a full boil.
3. Remove from heat and stir in chocolate until smooth.
4. Temper eggs and slowly combine back in.
5. Add flour, baking powder, and salt. Stir until combined.
6. Pour into greased 8" square pan.
7. Cook for 25 - 30 min.
Adapted From: Hershey's Cocoa Easy Baking