18 JAN 10
MLK Day Banana Cake
Filed Under: Cakes
---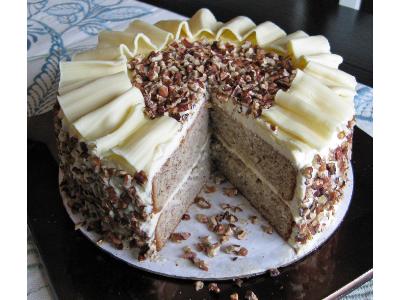 MLK Day is a day of service and therefore we are supposed to do something nice for someone else. Since I'm home from work today I'm able to bake a beautiful cake to share with neighbors and family.
I've been working on developing chocolate skills for decorating and I wanted to work on my chocolate ruffles so I picked a recipe that would pair well with the white chocolate I had laying around. I decided to use my over-ripe bananas and grabbed the banana cake recipe from The Complete Magnolia Bakery Cookbook. I paired the cake with the recommended white chocolate cream cheese frosting. To keep things simple I also used this frosting as the filling. While walnuts are typically used with banana I had a bunch of pecans left over from my holiday baking. Turns out they were a fantastic choice!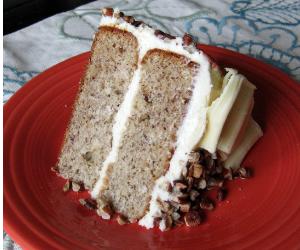 If you're a fan of New York City you may have been to or at least heard of the famous Magnolia Bakery. We happened to be in the city for my birthday this year and my birthday cake was a slice of their heavenly red velvet cake. The cake was so moist and delicious that I had to replicate it at home, therefore, I purchased the book. I did make that red velvet cake for Christmas although I'm sorry to say I didn't get any pictures. The book is available on Amazon.com or at your local Barnes & Noble.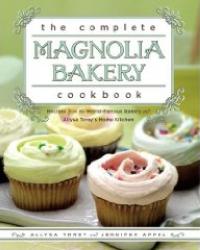 I created the chocolate ruffles by melting down two 4oz white chocolate bars and then painting the chocolate onto a sheet pan covered with parchment paper. I let the chocolate sit and set back up. I then cut the sheet into strips and then squares that I was able to hand form into ruffles. They're not perfect but not bad for a first try!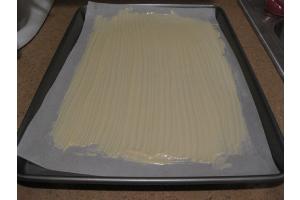 Melted chocolate on sheet pan